Natural Beekeeping Workshop ~ September 29-30, 2018 ~ Rockbridge, MO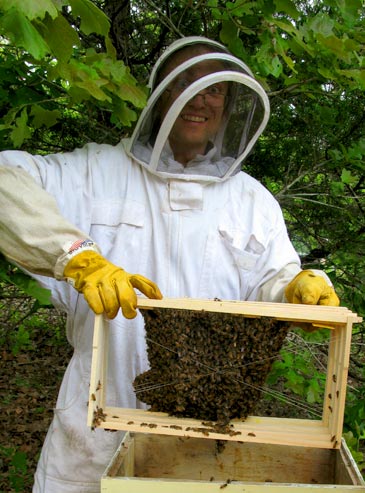 Keeping Bees With a Smile
inspired countless people to adopt natural approach with their bees or to get started. Discover which hive models work best in
your
climate and how to manage them successfully. Two full days of practical information, inspiration, and fun!
Keeping bees can be simple, healthful, and rewarding. Dr. Leo shares time-honored methods that take the sting out of beekeeping and make it fun and accessible to all. The visually-rich presentations include step-by-step instructions, hive demonstrations, and free hive plans.
Beginner beekeepers — or those just contemplating having bees — will receive a robust working understanding of all aspects and options of the natural approach. Experienced beekeepers — from backyard hobbyists to commercial — who seek ways to keep their bees treatment-free with minimal intervention and expense will glean a swath of ideas that can be applied to their existing operations.
"Dr Leo taught a class that was totally dynamite! Amazingly awesome trouble free way to keep bees that manages them so in tune with nature."
— unsolicited comment on Facebook. More reviews >
Dr. Leo Sharashkin is editor of Keeping Bees With a Smile: A Vision and Practice of Natural Apiculture, a comprehensive resource on keeping bees naturally in horizontal hives. He is contributor to American Bee Journal, Bee Culture, The Beekeepers Quarterly (UK), and Acres USA, and speaks internationally on sustainable beekeeping, organic growing, and Earth-friendly living. He holds a PhD in Forestry from the University of Missouri and a Masterís in Natural Resources from Indiana University. Author of world-renowned research in sustainable agriculture, he lives with his wife and four children on a forest homestead in the Ozarks in southern Missouri where they catch wild swarms and raise bees in a variety of low-maintenance, easy-to-build horizontal hives. You'll get to see it all during the seminar!
PROGRAM HIGHLIGHTS
The program will cover all aspects of the natural beekeeping approach, including:
Bees — How they live in nature and how to respect their ways in your apiary.
Natural beekeeping — "Pulling honey is all I do." – One hive visit per year. – Mistakes to avoid.
Catching swarms — Start or increase an apiary for free by attracting local bees. – Improve bee genetics.
Hives — Which model is best for you? – Horizontal hives and their advantages. – Design hives like a pro.
Frames — Wax foundation vs. foundationless natural comb. – Make your own foundation.
Management — What to do and not to do. – Keep your bees and keep your smile.
Keep it simple — One-box hive, no feeding, no heavy lifting, no queen excluders, no requeening.
Treatment-free — Healthy strong colonies without any drugs.
Wintering — Help bees overwinter successfully in any climate.
Woodworking — How to build low-maintenance bee-friendly hives. – DIY made easy. – Materials and tools.
Honey, wax, propolis — And some hive products you never heard about! – Sell your honey for $25/lb.
Honey plants — Enhance nectar resources for bee's future, and ours!
Apiary visit — See horizontal hives in action at Dr. Leo's apiary. – Six different hive models!
Bees and community — What we can learn from the bees about a cooperative society?
And MUCH MORE! DOWNLOAD FULL PROGRAM


SCHEDULE
Registration opens: 8 am Saturday, September 29, 2018
Workshop begins: 9 am Saturday, September 29, 2018
Workshop ends: 5 pm Sunday, September 30, 2018
We suggest that you plan to arrive at Rockbridge by Friday evening so you can rest from your travel before the workshop begins Saturday morning. Rockbridge and surrounding area have much to offer by way of outdoors (spectacular hiking, horse-riding, or star-gazing), so you may also consider extending your stay.
Please register early to guarantee a seat.
REGISTRATION RATES
$399
for two days
just $299
per person for 2 or more people
(save $100!)
The registration fee includes admission to the event, handouts, and healthful snacks / beverages served during breaks. It does not include accommodation or main meals.
REGISTERING BY MAIL
To register by mail your payment must be received by September 1, 2018. No special registration form needed. Please include a note with your name, mailing address, phone number, and email if available. Make a check or money order payable to "Deep Snow Press" and mail it to: Deep Snow Press, HC 73 Box 470, Drury, MO 65638. Registration fee is $399, or just $299 per person for a party of two or more. Thank you!
CANCELLATION POLICY
Cancel by July 31, 2018 — get 100% refund!
Starting August 1, 2018 — registration fees are non-refundable.
VENUE & SETTING
Venue: Rockbridge Trout Ranch, 1 County Road 142, Rockbridge, MO 65741
Web: rockbridgemo.com
Phone / Accommodations: (417) 679-3619 – reference "Dr Leo's Beekeeping Seminar"

Workshop venue is the beautiful Rockbridge Trout Ranch (rockbridgemo.com) – a scenic resort nested in nature, surrounded by thousands or acres of Ozark's forest hills. The bluff-edged spring-fed river with crystal-clear waters, a historic mill, and a waterfall are within sight of the conference room, restaurant, and the rooms! The location offers – in addition to all modern amenities, accommodation, and dining – hiking trails, horse riding, trout fishing, hunting, float trips, and more. We love this place and we are sure you will love it as well!
ACCOMMODATION
Rockbridge is a very popular destination and they sell out months in advance! Please call Rockbridge (417) 679-3619 and reference "Dr. Leo's Beekeeping Seminar" to reserve your room. Standard rooms are $105 / night; they also offer suites in the $150 range, and fancy log houses (expensive).
Budget accommodation alternatives near Rockbridge include:

GETTING THERE
Rockbridge is located on Highway N in Ozark County, South-Central Missouri.
The nearest airport is Springfield, Missouri (SGF) – 90 miles. Other airports include:
St. Louis, Missouri (STL) – 215 miles
Kansas City, Missouri (MCI) – 270 miles
Northwest Arkansas Regional (XNA) – 170 mi
Little Rock, Arkansas (LIT) – 190 mi
Memphis (MEM) – 230 mi
DRIVING DIRECTIONS
Do not rely on GPS or you can get lost!
From SPRINGFIELD: 60 E to Mansfield; RIGHT on Hwy 5 S to Hwy N; LEFT on Hwy N to Rockbridge. Link to map: tinyurl.com/n2m88vs
From ST LOUIS: I-44 W to Rolla; 63 S to Cabool; 60 W to Mountain Grove; 95 S to N; turn Right on N, 2 miles to Rockbridge. Link to map: tinyurl.com/nn72wkf
MISCELLANEOUS
Dr. Leo has never canceled a workshop he committed to. But in the unlikely event that we have to cancel the seminar, we shall reimburse you your registration fee in full. In case of such cancellation by us, we will not reimburse you for any other expenses (such as travel and lodging) or losses.
CONTACT INFORMATION
If you have any questions, please email us at b**s@horizontalhive.com (replace b**s with the name of the insects that live in hives) or call (815) 301-1845. We look forward to meeting you at this remarkable event!
TESTIMONIALS FROM PREVIOUS WORKSHOPS
"Fantastic crash course in keeping bees naturally. Fast-paced, action-packed, and to-the-point. You'll understand beekeeping -- and how it should be done."
— Garl, Bozeman, Montana
"It was totally awesome!! Very comprehensive, clear and beautifully presented. I felt my soul expand with the deep knowledge and wisdom that Dr. Leo shared and imparted to me in the same way that he might expand the hive in the spring. I am deeply grateful for his work with the bees. Dr Leo's passion and love for the bees comes through so strongly. I now have confidence to go home and catch a swarm and keep bees naturally with a smile. :) Love, love, love the handouts. I was able to listen more instead of taking notes."
— Joanne, Hamilton, Montana
"I wholeheartedly recommend Dr Leo's natural beekeeping workshop. He is a wealth of practical information in regards to bees, beekeeping and the importance of biodiversity. You will walk away impassioned and well prepared to keep bees in harmony with nature."
— Chris, Bozeman, Montana
"Dr. Leo said so much that made sense to me that I finally gave up counting the 'light bulb' moments. I am still just in awe of the information provided to us. Simple, honest, pure and sharing. I sat in amazement that we had this caliber of teacher/teachings right here in Bozeman at our own back doors! I cannot recommend this enough for anyone with an interest or desire in bees, especially if you're just considering them. I wish I had this knowledge 3 years ago when I decided to get bees. It would have saved me and the bees a lot of heartache. Dr. Leo is a warm and generous soul, sharing his wisdom and spreading the JOY of beekeeping with anyone who wants to learn."
— LaVonne
"Empowering & Practical & Inspiring! I feel honored to have been able to be here. Exactly what I needed."
"I am so excited, energized, and wish the course was actually a class which would go on and on for a period of time like a course in college. Dr Leo was very available to questions, and even though the amount of information was overwhelming at times — everything was understandable. Than you, thank you! I enjoyed your smile and enthusiasm and your peace!"
— Susan, Bozeman, Montana
"Enlightening, Enriching, Exciting. Thank you for bee-ing here! Thank you for sharing your passion, knowledge, and experiences with us! We need you, your passion, and your work — the planet needs you! So completely satisfied and so grateful for the workshop."
— Dannette, Bozeman, Montana
"I wish everyone interested in bees could experience Dr Leo's workshop, whether they already have bees or not. It all made so much sense."
— LaVonne
"This was a great workshop. It answered all my questions and the combination of good pictures and explanation made things very clear to this beginner. Thank you."
"Excellent weekend! I enjoyed every minute."
— Jeff, Townsend, Montana
"Such an amazing practice you share with us. The principles are so simple and realistic, it makes sense. This ancient wisdom is wonderful to have. Working with a horizontal hive is the only way to go. Thank you for sharing your knowledge."
"Thank you Leo! :) I loved how clear and fast paced your information is presented."
"FANTASTIC! I would recommend it to anyone who has bees or is interested."
"The course was very well organized. Dr Leo covered a lot of material during the weekend but I never felt overwhelmed. His presentation was informative, easy to follow, and inspiring."
"Ah! This was a wonderful workshop. A tremendous amount of information and contagious enthusiasm. I believe everything was covered that I had concern over. Thank you so much!"

Brought to you by Deep Snow Press and HorizontalHive.com